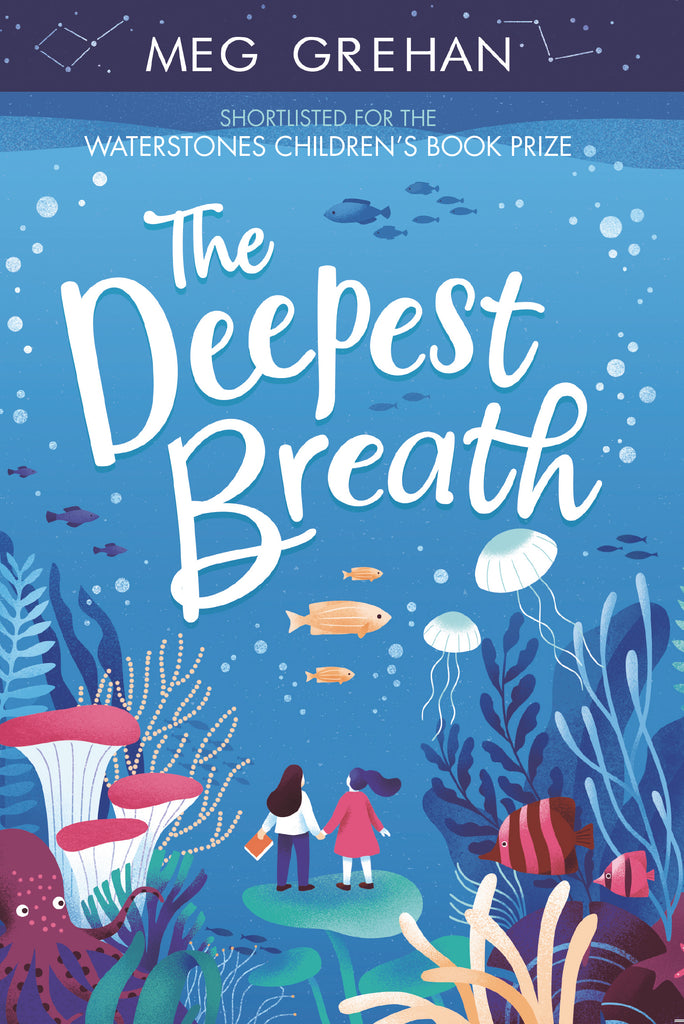 Awards Received
Shortlisted for the Waterstones Children's Book Prize 2020
Shortlisted for the KPMG Children's Books Ireland Awards 2020
KPMG Children's Books Ireland Awards 2020 Judges' Special Award Winner
Description
Praise
Bonus Content
About the Author
Reader Reviews
Description
 The Deepest Breath is a beautiful verse novel about a girl coming to an awareness of who she is and who she might love.
'It's in my chest
And sometimes in my tummy
And always in my head
It's a fizzy feeling
Warm and squishy
And it makes me blush
And it only happens
When I look at my friend
Chloe'

Shortlisted for the Waterstones Children's Book Prize 2020
There is so much that Stevie doesn't know. She doesn't know about all the fish in the sea. She doesn't know all the constellations of the stars. And she doesn't know why she feels this way about Chloe.
Praise
'Incredibly artful, incredibly tender' – Deirdre Sullivan, author of Tangleweed and Brine
'Gorgeously written, emotionally complex and endlessly kind' – Moïra Fowley-Doyle, author of Spellbook of the Lost and Found and All the Bad Apples
'This is a heartwarming, emotional look at a very young girl realising she likes girls and trying to tell her mum, the person she trusts most in the world. It made me cry and feel the biggest love for the human race. Meg's writing is so beautiful and flows like water.'
– Lauren James, author of The Loneliest Girl in the Universe
'On the surface a quiet, gentle tale … But it is powerful in its simplicity: "I want to touch her hair," Stevie blurts out, then tries to figure out what her mum's raised eyebrows mean; later she goes to the library to find books that will explain things to her, but can find "nothing / About a princess and a princess / Or a queen and a queen / Nothing at all". It's a fierce reminder of the need for books that show readers of all kinds of love, as well as being this kind of book itself, especially for younger teens and pre-teens.' – The Irish Times
'A seamless narrative. Grehan's verse flows like water, and her scenes – some tense, some thoughtful, and each slipping easily into the next – patiently follow the rises and falls of a young girl's emotional life.' – Gay Community News
'As a "coming-out" story, it is so powerful and revealing, yet so nuanced … The characterisation is absolute perfection, with elegant detail given in just a few words … This book is gently amazing and utterly compassionate. Just beautiful. Please, please read this book!' – Mary Esther Judy, bookseller and reviewer
'The Deepest Breath is exceptionally unique and progressive in the current Irish literary scene. Above all, the book breaks new ground in children and young adult literature, capturing as it does the first steps towards coming out for a child … The skill and the kindness with which Grehan addresses challenging issues in this book is astounding. This is an incredibly gentle and tender novel, yet the passion that lights it from within is ferocious.' – The University Times
'A stunning and beautifully-written story that really captured my heart. Grehan writes in a way that is remarkably tender and honest.' – Alix Long
'A beautiful and charming novel in verse about growing up, coming of age and coming out. Gentle, tender and moving… I loved this book.' – Lisa Corr, Dubray Books
'I was absolutely blown away by it; wished it was around when I was 11 or 12. Without wishing to spoil anything, I'm a children's librarian, too, so it was a double win for me.' – Elaine Peebles, librarian
'What beautiful magic inside these pages … a gorgeous story.' – Jacq Murphy
'I spent most of this beautifully written verse novel blinking back tears. Grehan has created one of those rare gems, a book that feels so utterly real and involving that the reader lives every page with the main character. Written with such heart and tenderness, after closing the last page, I felt genuinely distraught to have finished it. Amazing to think it's only Grehan's second book.' – Sarah Webb, The Irish Independent
'Saying this book was beautiful doesn't actually do it justice. Pardon the pun, but it was simply breathtaking.' – Serendipity Reviews
About the Author
Reader Reviews